Keeping kids entertained during school holidays is hard, but juggling work with taking time off to spend with the kids is even harder. As a father myself, anytime I see an article that offers suggestions on how I can best spend precious time with my kids, I generally take note and give it a read. After all, while there are 101 things to do with kids on the Gold Coast, I find we do the same 3 or 4 things over – its nice to throw in something new to provide fresh memories for all.
The most recent article I came across was from one of my favourite blogs, queensland.com and it provided a great list of things to do with kids on the Gold Coast, many of which I hadn't even considered – let me share them with you.
01.Tamborine Mountain – spending the day with your kids at Tamborine Mountain is a wonderful idea. Exploring nature, and the beautiful surroundings, while walking or hiking will be super fun, and the scenery is astonishing. If you want to rest a bit, visit the village, because there are many excellent restaurants and cafes. Also, you can shop as well, because youll find boutiques, artwork, and antiques. Mother Nature offers so much, and Tamborine Mountain is the most amazing example of natural beauties and breathtaking surroundings.
02.Springbrook National Park – this amazing area has many interesting features, and it covers an area of 6725ha. The landscape is spectacular, and there are many breathtaking waterfalls. Your kids will love the adventure which involves walking, visiting a glow-worm cave, and many other different activities. There is a picnic area, so you can take a lunch and relax a bit, while enjoying the view, because after all, Springbrook National Park has such an astonishing offer, and there are many natural wonders.
03.Spend the day on the beach – there are many things to do on the Gold Coast, but spending the day on the beach with your kids is one of the top options. Activities and possibilities are basically endless. Always choose a guarded beach. Dont forget to bring water bottles, beach towels, and of course the sunscreen, and the enjoyment may begin. You can build sand castles together, swim, explore the beach, play some sports, and so many other things. Water and sand offer the most special experience, especially when it comes to children. Every kid will enjoy every single second of it. It will be an unforgettable day, thats for sure.
04.The Gold Coast Regional Botanic Gardens – located in Benowa, this is a heaven on earth for those who like gardens. Taking your kids to such a place, youll teach them to appreciate the surroundings, flowers and nature in general. They will see some wonderful plants, as well as the butterfly garden. You can bring your dog as well, because there is an off-leash area.
05.BBQ – this is a great way to spend your day with your kids, and there are many excellent places on the Gold Coast for a BBQ. Among the top ones is Budds Beach, for several reasons. There are toilets, which is of course important, the water is ideal because it is calm, and you'll be able to teach the kids to swim if you haven't already. Nearby is a playground, and a caf. You will have a great family meal, and you can enjoy a cup of coffee while the kids are exploring the playground. It is a dream option for your entire family and Ill certainly be added this one to my own list of things to do with kids on the Gold Coast.
06.Currumbin Rock Pools – there is nothing better than to cool down during a warm summer day, and the beach is not the only option you have. Take your kids to the Currumbin Rock Pools, and you will have a wonderful time. You can take some rest, or even take a nap in the shade, or enjoy a picnic, and as a result, you will have many fresh and fun memories. Change is always good, especially if it involves the superb Currumbin Rock Pools.
07.Currumbin Wildlife Sanctuary – Australia has very rich wildlife, and in the Currumbin Wildlife Sanctuary, your kids will experience all that in the most amazing way. They will be able to feed a kangaroo, or cuddle a koala, watch the birds, and many other excellent things. It is a true adventure, and during the Queensland school holidays, there are many great programs for kids. Also, the entry is free of charge for kids under the age of four. How amazing is that?
08.Jellurgal Aboriginal Culture Centre – there are many wonderful things to do with kids on the Gold Coast, and if you would like to see your kids learning and having fun at the same time, then you should take them to the Jellurgal Aboriginal Culture Centre. You will be welcomed by one of the worlds oldest living cultures, the Yugambeh people. They will share stories and tales, of Burleigh Mountain, and there are Burleigh Heads National Park tours. You and your kids will learn many new things, especially about the Gold Coast and its cultural history. After the tour is over, you can visit the caf, and enjoy tea and bush tucker. There is also an art workshop, and the library.
09.Learn to surf – surfing is a wonderful sport, which brings fun and enjoyment, and your kids will love it. Your little ones will experience the beach lifestyle, and all the beauty of the water. This can become the favourite activity for your entire family, and you will have many wonderful memories in the years ahead. Surfing is fun, and how much your kids are enjoying it will be noticeable from their smiles and loud laughter.
10.Bike rides – if you don't own bikes, you can rent them at an affordable price. Spending a warm summer day riding a bike with your kids is priceless, and this activity should become your habit, because it is healthy, and it is fun. Pack water bottles, and take a break when needed. You can always end the adventure in one of the restaurants and have a wonderful family meal, and you can summarise the impressions. You will certainly talk about many great places you saw while riding your bikes, and you will probably plan your next bike adventure.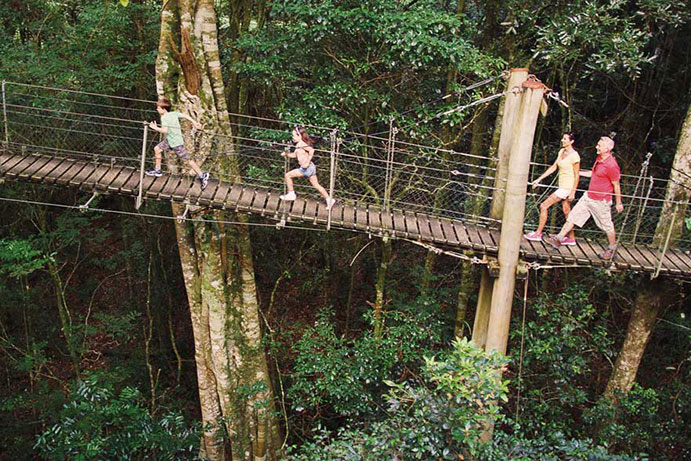 As you can see there are some really good recommendations on this list for things to do with kids on the Gold Coast, but as the manager of the second most popular Gold Coast attraction, I have to be biased and throw in a suggestion of my own, and that of course is Infinity Attraction. If INFINITY sounds familiar to you, it may be because you have seen our recent advertising on kidspot.com.au. INFINITY Attraction is one of the most popular on the Gold Coast. You will step into a futuristic world with many unique special effects. You will ignite your imagination, and you will challenge your senses. It is an unforgettable 30-minute experience, which will bring many emotions, screams and laughter. The ticket prices are more than affordable, for an experience the whole family will enjoy. Once you check it out, it will become your favourite thing to do with your kids.
Conclusion
There are many wonderful things to do on the Gold Coast with your family. There are many wonderful places which offer the most amazing nature experience, where you can take long walks, hike, or enjoy picnics. There are botanical gardens where your kids can learn more about all kinds of plants. At the Currumbin Wildlife Sanctuary, your little ones will spend the day with animals, such as koalas, kangaroos, and many others. In the Jellurgal Aboriginal Culture Centre, you will expand your horizons by learning many new things. A BBQ is always an excellent idea, and the Gold Coast is the perfect option, especially Budds Beach. Spending the day on the beach will bring much excitement, with swimming, playing sports, or building castles. Fun will always be guaranteed. When you feel like you and your family want to take a rest from the beach, visit Currumbin Rock Pools. The list of activities on the Gold Coast is extremely long, and some of the best ones are learning to surf, or enjoying the bike rides.
Now youll never have to worry about wasting precious family time doing activities your kids are not really into, as you can see there are many great things to do with kids on the Gold Coast, you just have to think outside the box!
If you and your family have never visited Infinity Attraction, now is the perfect time. It is something completely different, and it will be such a fun experience you will definitely never forget. Visit our official website to learn more about Infinity Attraction, and to book your tickets. If you have any questions, do not hesitate to ask. Send us an email or give us a call!
Related Topics
School Holiday Activities to Keep Your Kids Entertained
The search for things to do with kids is now over!
Things to do in Surfers Paradise with Kids
Things to do on the Gold Coast with Kids